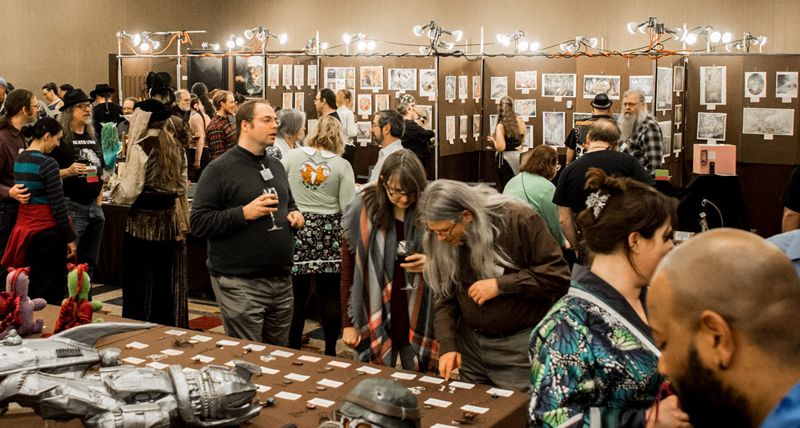 Photo by Cat Trzaskowski
Located in the Georgian room, Arisia's art show features work by artists including our Artist Guest of Honor hung salon style on 500 linear feet of portable wall space. Subject matter includes science fiction, fantasy, space, and other speculative subjects, in a wide variety of media. Most work is for sale, and prints are available of many works.
There is a small hanging fee, but no commission is charged on sales. Unlike most other science fiction convention art shows, sales at Arisia are at fixed price only. More information is available on the rules and fees page.
Artist Guest of Honor Award:

Frog Queen's Revenge by Kristina Carroll

Fan Guest of Honor Awards:

Ollie the Aquatic Librarian by Wendy Ellertson
Pitcher Plant Lamp by Scott Lefton
Honorable Mention for Best Captions: Julia Burns Liberman

Art Show Co-Directors Awards:

Arbour Autem Oculus by Joe A. Souza III
On the Virtues of Beasts of the Realms of Imagination (series) by Anne Nydam

Art Show Staff Award:

Carried Away by Elizabeth Leggett

Convention Chair Award:

Golden Light Pouring Forth by Lois Blood Bennett

Popular Choice 2D:

The Queen's Guard by Elizabeth Leggett

Popular Choice 3D:

Puff Pods (series) by Talia Lefton

Best In Show:

Ollie the Aquatic Librarian by Wendy Ellertson