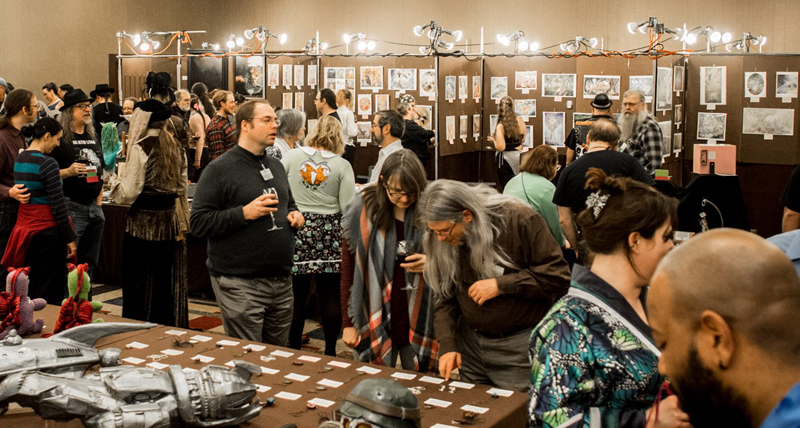 Photo by Cat Trzaskowski
Previously the Arisia 2020 Art Show located at the hotel and featured work by 78 artists including our Artist Guest of Honor Kristina Carroll Subject matter included science fiction, fantasy, space, and other speculative subjects, in a wide variety of media.
Applications for the Arisia 2021 Art Show will open in June 2020.
There is a small hanging fee, but no commission is charged on sales by Arisia. Unlike most other science fiction convention art shows, sales at Arisia are at fixed price only. More information is available on the rules and fees page.
More information about the Art Show, including sales statistics, are available on last year's website.
2020 Art Show Winners
Best in Show
Lioness Seahorse by Kimberly's Creatures
Popular Choice 2D
Nocturne V by Kate Adams
Popular Choice 3D
Frost Giant Mask by Embercraft Creations
Artist Guest of Honor's Choice
Things Slipped Through Our Fingers by Reiko Muramaki
Author Guest of Honor's Choice
Young Dragon Mage by Kristina Carroll
Fan Guest of Honor Awards
Wishing Dragon by Rachel Creemer
Convention Chair's Choice
Not to Scale by Theresa Halbert
Art Show Directors' Choice
Woodelf Warrior on Stellar's Jay by Heather Gamble
Our Lady of the Bird by Lori Del Genis
Art Show Staff Choice:
Kristina Carroll