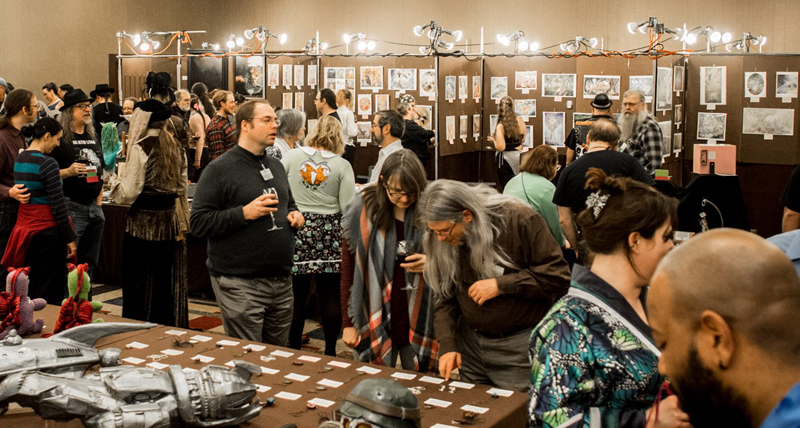 Photo by Cat Trzaskowski
Located in the Harbor II/III ballroom the Arisia 2020 Art Show featured work by 78 artists including our Artist Guest of Honor Kristina Carroll hung salon style on 500 linear feet of portable wall space and 126 linear feet of table space for 3D works. Subject matter included science fiction, fantasy, space, and other speculative subjects, in a wide variety of media.
The Art Show will curated by our Artist Guest of Honor and others. Applications for the Arisia 2022 Art Show will open in June 2021.
There is a small hanging fee, but no commission is charged on sales. Unlike most other science fiction convention art shows, sales at Arisia are at fixed price only. More information is available on the rules and fees page.
More information about the Art Show, including sales statistics, are available on last year's website.
2021 Art Show Winners
Best in Show:
Atlas by Kaysha Siemens
Popular Choice 2D:
Entrance by Sarah Morrison
Popular Choice 3D:
Sea Change by Sandra Van Vooren
Artist Guest of Honor award:
Persephone in the Garden of Hades by Kaysha Siemens
Writer Guest of Honor award:
Reanimated Ammonite by Sandra Van Vooren
Con Chair award:
Procession by I.S. Kallick
Art Show Director's award:
Ice Fishing by Ryan Klemek
Art Show Director's award:
Jettycat #5 Catscratch Fever (cover) by Hannibal King
Fan Guest of Honor award:
Hard Landing, the Sequel byJohnna Klukas