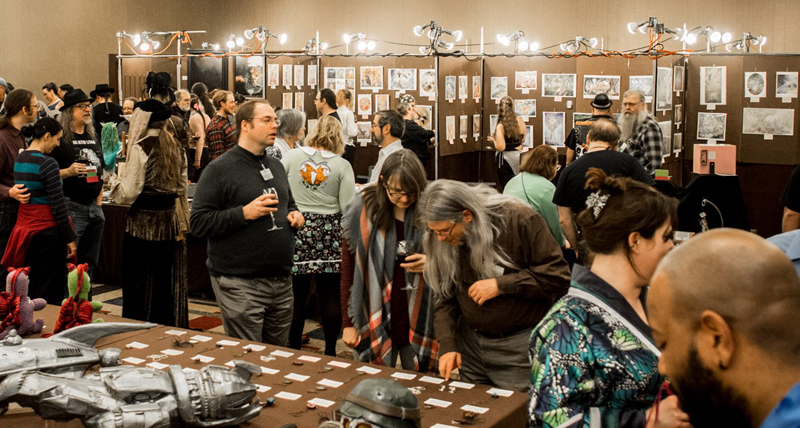 Photo by Cat Trzaskowski
Located in the Harbor ballroom, Arisia's art show features work by artists including our Artist Guest of Honor hung salon style on 500 linear feet of portable wall space. Subject matter includes science fiction, fantasy, space, and other speculative subjects, in a wide variety of media. Most work is for sale, and prints are available of many works.
The application period for space in the Art Show is over, but we are still accepting waiting list requests.
There is a small hanging fee, but no commission is charged on sales. Unlike most other science fiction convention art shows, sales at Arisia are at fixed price only. More information is available on the rules and fees page.
More information about the Art Show, including sales statistics, are available on last year's website.
Art Show Hours
Thursday, January 16, 2020

8pm to 11pm: Artist Check-in



Friday, January 17

noon to 5pm: Artist Check-in
6pm to 9pm: OPEN

Saturday, January 18

10am to 6pm: OPEN
4pm-5pm: tactile tour
7pm-8pm: open for mobility aid users and companions only
8pm to 10pm: OPEN

Sunday, January 19

10am to 6pm: OPEN
5pm to 8pm: Art pickup
6:30pm to 9pm: Artist checkout

Monday, January 20

10am to 1pm: Artist checkout, final sales and art pickup