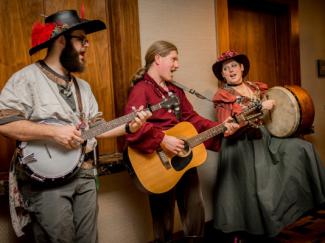 Throughout the weekend, we'll have designated musicians performing in public spaces at the hotel. If you like to jam, bring an instrument! Arisia gets plenty of musicians, and minstrels — even when on duty, if they're not too busy — are prime candidates for people to jam with. Everything not labeled as an open jam is a performance.
Once the list of minstrels is confirmed we'll publish it here, along with their schedule.
---
To see what the minstrels did last year, visit the archive.